As a continuation from yesterday, I decided to add this for my son:
Food:
Cheese and crackers, cookies, cheerios, and graham crackers!
Fruit:
apples, bananas, pears, oh and....okay he likes them all. Add a little cinnamon and he's all over it .... or it's all over him.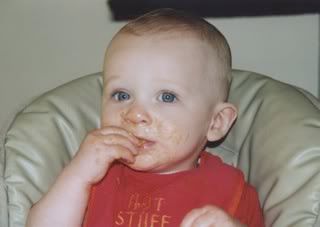 Veggies:
Not so much, but he tolerates sweet potatoes and squash.
Color:
If I had to guess, yellow. He loves to watch the school buses go by and he can spot a yellow car across the parking lot.
Books:
Put Me in the Zoo
by Robert Lopshire
Tails
by Matthew Van Fleet
Oh, the Thinks you can Think
by Dr. Suess
Tv show:
Michey Mouse Playhouse
The Backyardigans (their song and dances really catch his eye!)
The Wonder Pets (save the animals!)
Go, Diego, Go! (hmm, I wonder why?)
It's a Big, big World (loves the sloth)
Song:
"If You're happy and you know it"
"Elmo's Song"
"Old McDonald" (especially when Mom "moos" like a cow!)
Animal:
Monkey! And don't forget Maggie the Cocker Spaniel!
People:
Mom and Dad by far, but Grandpa and Gramma are a really close second!